Internal propaedeutic workbook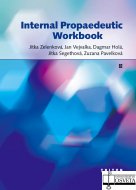 The sections and chapters present the framework of the multimedia teaching aid for internal propaedeutic. The chapters are oraganized in several relevant sections providing:
practical instructions for processing of anamnestic data of the internal patient,list of symptoms of important common internal diseases,instruction how to evaluate basic physical examination findings grouped by body system and supplemented with selected picture or sound documentation.
The intension of the teaching aid presented here is not to replace the classical internal propaedeutic textbook. The objective was to make the orientation in this area of medicine easier for students. It is based on the knowledge of classical examination procedures applied to individual body systems. It provides systematically organized overview of pathological findings with the data on their most common causes.
Ďalšie informácie
| | |
| --- | --- |
| Autor: | Zitko Miroslav |
| Vydavateľstvo: | Triton |
| Rok vydania: | 2009 |
| Väzba: | Mäkká |
| Počet strán: | 120 |
| Formát: | 14,5 x 20,5 cm |
| Jazyk: | český |
| ISBN: | 9788073871864 |
Komentáre - Internal propaedeutic workbook